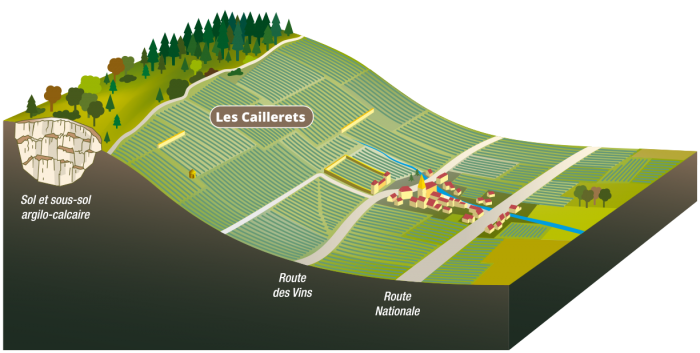 Source : Ecole des vins de Bourgogne / Luc Groffier
In Burgundy, the notion of terroir sums up well how humans use natural conditions to reveal the best that the vine has to offer. The notion includes not only the environment composed by the soil (its nature, depth and drainage), the altitude on the slope and the exposure to the sun but also any human intervention, because the choices made by the winegrower for each season determine the final quality of the wine.
At Guy Amiot's, our founding plot "Les Caillerets" which surrounds the Domaine is a good example of terroir:
The vines are planted in shallow soil, in very close contact with the bedrock which is laid bare in many places on the hillside. The clay layer is thin, the roots cling to the limestone which they have patiently cracked over the years in search of the water and nutrients necessary for their growth
Located at the top of the hillside at about 250m, the plot is subject to cooler temperatures which influence the growth cycle. Due to natural soil erosion, the clay layer is thinner at this altitude, which reinforces the contact with the limestone rock.
Its south-western exposure guarantees optimal sunshine until late afternoon, particularly from May to September, which accelerates plant growth and grape ripening. Whatever the climatic variations from one vintage to another, the Caillerets expresses a more "exotic" terroir than other plots exposed to other points of the compass

To make the most of the natural conditions, the winemaker takes into account the elements of the Caillerets terroir to decide on the type of plant to select and then on the timeliness of the vineyard work from pruning in winter to harvesting at the end of summer.
Without turning our backs on the beneficial contributions of science (analytical monitoring of the wines) and modern equipment (inerting of the bottles before filling, thermo-control of the storage areas), our methods of vinification in oak barrels remain traditional. The duration of maturation in barrels and vats extends to 20 months for the whites and 24 months for the reds to develop their aromatic structure.